The coupon deal industry is one of the fastest growing industries currently worth $485 billion dollars.
What's really great about it is that despite the big players like RetailMeNot and Groupon, there are a lot of niche opportunities where smaller companies can tap into.
And converting visitors into customers is not as hard as it seems.
90% of coupon traffic is BUYING traffic as people tend to only search for coupons just before the make a purchase or when on the checkout and they see the 'discount' or 'coupon' code box.
Which is good news because all you need to make sales is to generate traffic and offer great deals.
In this blog post, we'd like to share with you 10 tips to help you grow your coupon business in 2018.
Offer the best coupon deals in your niche
The biggest value that coupon businesses offer to its customers are great discount offers.
The only reason why people would come to your website is because you can save them money. Never forget that this is the core of your business.
So to be successful with this you must do 2 things:
Offer great deals on your site
Find out what your customers would be most interested about.
The way to do that is to:
Look at which keywords has the most searches per month
Conducting a survey
Asking your customer directly
Checking out what coupon deals your customers are offering
Give the biggest discount that you can
Your job is to include your best deals on your website in order to satisfy your customers.
Do that even if the best deals for them don't make you that much money. Keep in mind that if you make your customers happy, they will come back and buy from you again.
This means that in the long term you're going to make a lot more money from them.
Focus on niche opportunities
One of the biggest drawbacks of the coupon business model is that there is too much competition.
The big markets are way too saturated and it will be extremely hard for a new player to position himself there.
At the same time, this doesn't mean that there is no way to build a successful coupon business.
The secret here is to focus on niche markets where competition is low.
Think of something that's smaller and in high demand. At the same time, it needs to be pricey enough so people are motivated to look for coupon deals.
It could be web hosting or themes, hobby related, sports and activity, food related, hotel deals and travel related, etc.
To find the right niche market to target, start by investigating your current competitors and answer yourself the following questions:
What coupon sites serve your local area?
Do they concentrate on a specific product or group of people?
Are the sites kept up-to-date?
What types of coupons do they offer? How will your coupon site differ from those already in existence?
Potential markets you can explore for coupon deal sites:
Parents
Hobbyist
Business to business
Seniors
Clothing
Use Affiliate Sales as primary source of income
The primary source of revenue for any Coupon deal site is affiliate sales.
This means that you should focus your time on finding great products and services that you can offer on your site.
Keep in mind that that deals that you list on your site must be of interests for your audience. Otherwise, you won't make any sales no matter how big discount you give them.
Second of all, the discount must be big enough. Otherwise, website visitors won't have a reason to buy from you.
They will just go straight to the website of the company offering the product or the service and buy from them directly.
For example – these Bluetooth wireless stereo headset is down from $199.99 to just $21.99.

So anyone with a straight mind who wants to save 90% on this products would get the deal from this website and won't search for it elsewhere.
Use Advertising as a secondary source of income
Another way to make money with your coupon site is with advertising.
You can very easily install Google AdSense and allow people advertising on Adwords to reach your website audience as well.
The good news is that setting this up is really easy.
Once you sign up for AdSense, Google will place a small code on your website that will identify your content and start displaying relevant advertisement.
You can get paid each time someone clicks on an ad shown on your website.
Another way to go about this is to publish sponsored posts and deals on your website.
That way you can direct people to great deals to other websites and get paid for doing that.
Target discount keywords
63% of the traffic to RetailMeNot comes from organic search. Currently the company is excessively using SEO as a way to drive traffic to its coupon deals.
So if you're owning a coupon business, you should be doing the same.
The right place to start is by targeting the right type of keywords to maximize your exposure.
There are several types of discount keywords you can use:
Discount deals by location – it could be either country or city.
For example: you can target discount deals only for New Zealand or New York.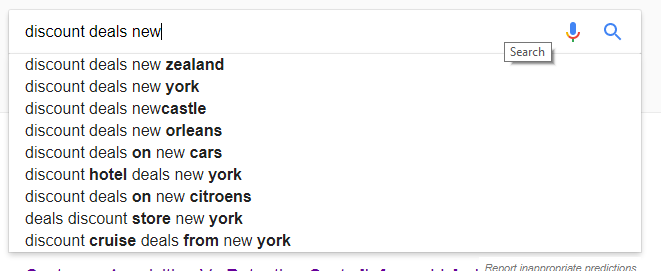 To expand on this strategy you can create different pages and optimizing each one for specific location.
Discount deals by industry or product category – a great idea is also to target keywords depending on industry or product category.
For example: travel deals.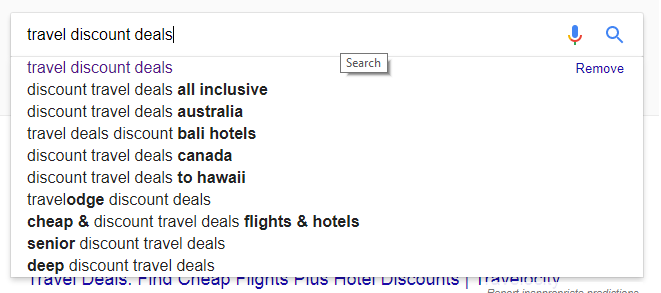 Here you can also combine the travel deals with locations.
Discount deals by product type – you can target keywords based on coupon deals for specific product type and brand.
For example: shoes discount offer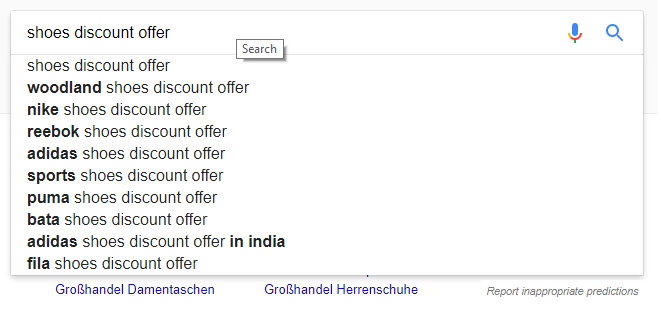 Here you can also combine the product type with the brand name – "nike shoes discount offer", "adidas shoes discount offer", etc.
Discount deals by seasonality or day of the year – you can target different coupon deal keywords depending on the days of the year.
For example: Black Friday Deals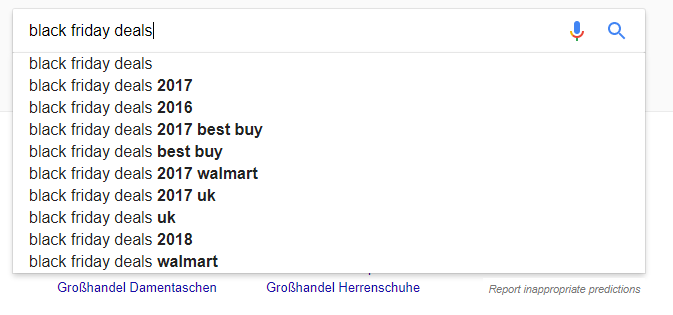 You can also combine the event of the year with a product type or/and location.
For example: "Black Friday deals laptops", "Black Friday deals clothes", Black Friday deals clothes Canada", etc.
Use creative ways to build links from popular sites
To rank your coupon deal website for your desired keywords, you need high quality backlinks from relevant websites.
There is no way around it.
The challenge here is coupon deal website usually don't contain the most compelling content that will allow you to earn backlinks.
Not many people would want to link to a page which lists a number of coupons relating to a specific online retailer.
Here's a list of a few creative link building strategies that you can use to setup your coupon website for success:
Setup a blog – create educational blog posts related to any current offer and link to it from your content.
Then outreach to bloggers and ask them to link back to your blog post.
Create an infographic – infographics are still one of the best ways to generate links for any website. You can create one for your industry and pitch it to bloggers and website owners.
If they decide to use it, they will link back to your website.
Create an industry report – make an original research in your industry and share it with others. This can earn you more backlinks than all of the other strategies combined.
The only drawback is that creating this report will be extremely lengthy process. But most of the time, it is totally worth it.
Use Facebook ads to drive traffic to your deals
Facebook ads is one of the cheapest ways today to drive traffic and conversions.
You can use one or several from this strategies:
Create a custom audience from your current list – the first thing you should do is upload your list of current customers into Facebook and target them with ads.
They will have the highest chance to convert and buy from you against all other audiences.
The next thing is to upload your email list and target these people as well. They have a high chance to convert and buy because they have already engaged with your brand.
The same is true with your website visitors or those that have interacted with your Facebook page.
You can retarget those as well using Facebook ads.
Create a lookalike audience – based on your custom audience you can create a lookalike audience.
This is an audience that is very similar to your current list which makes it more likely to convert.
I suggest you first create a lookalike audience of your buyer's list and then of your email list.
You can also create a lookalike audience website of your website visitors or people who have interacted with your Facebook page.
Target people by interests – you can go to Audience Insights on Facebook to find interests you can target.
To do that you can type the name of your competitors as interest. Then you go to Page Likes and see what other pages people liking your competitor like.
For example: Groupon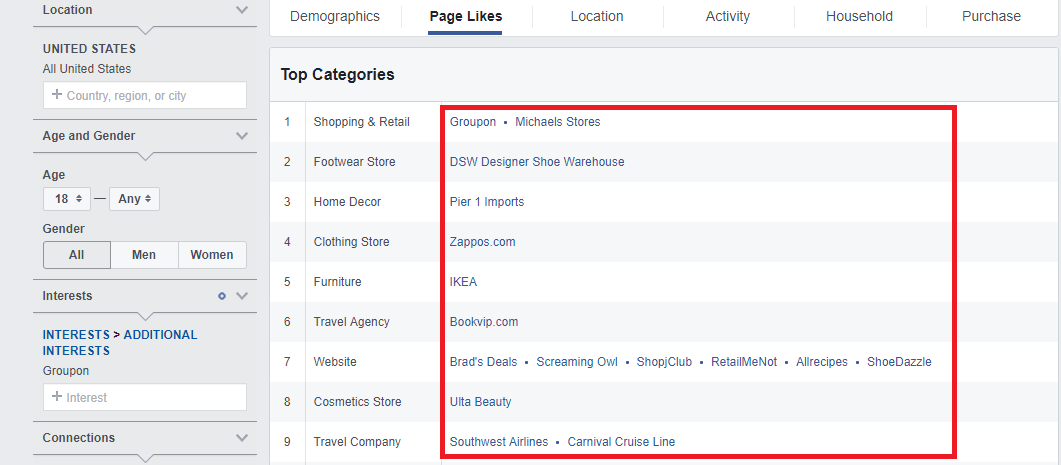 People interested in Groupon also like things like "Michael Stores", "DSW Designer Shoe Warehouse", "Pier 1 Imports", "Zappos.com", etc.
Many of these interests you couldn't find any other way.
Build your email list
The truth is that 98% of visitors won't buy on their first visit.
In fact, the majority of people will need to make multiple visitors to your website before deciding to purchase from you.
This means that you should come up with ways to bring people back to your website and engage them with your offers until they buy from you.
One of the best ways to achieve this is to focus on converting your website visitors into email subscribers.
A few ways to do this is by:
Including an opt-in box on each page of your site – it's important to make it easy for people to subscribe for your newsletter.
That's why it's a smart move to include an opt-in box on every page of your website.

Don't forget that 22.6% of people subscribe for a newsletter to get access to deals and promo offers.
Using exit-intent popups – Exit-intent popups are your last chance to convert your visitors into email subscribers. Otherwise, they might leave your website and never come back again.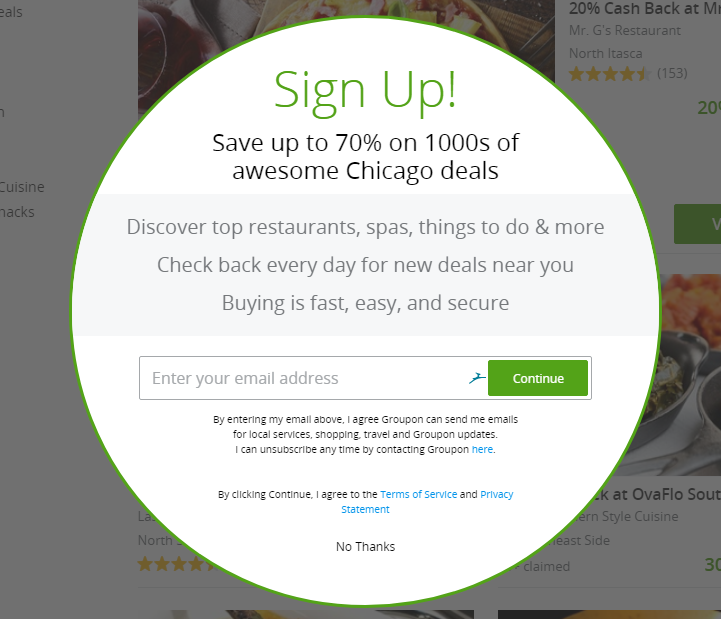 This is the time to present them with an attractive offer so they'd like to subscribe to your newsletter.
Grow push notification subscribers – besides email, you can also use web push notifications to engage your audience and convert them into customers.
Here's why you should consider using push notifications as well:
Push notifications have an opt-in conversion rate of 40%. For comparison, opt-in rate for email marketing would be anywhere between 1% and 20%.
This means that it will be much easier for you to grow your push notification subscribers than your email subscribers.
At the same time, push notification has higher click-through rates.
According to our data, push notifications have an average CTR of 18%. For comparison, email has an average CTR of 2.32% in the eCommerce industry.
This makes push notifications 775% more effective than email.
Another benefit of push notifications is they are more likely to be read simply because they are shown in the browser.
People don't need to be on your website to receive push notifications. All that is needed is that they're in the browser for them to receive your message.
To start using push notifications for your eCommerce store, you would need to sign up for Pushflew.
Once it is setup, every time someone visits your website a small popup will appear asking him to opt-in for push notifications.

If the visitor clicks "allow," he will be subscribed to your list.
Focus on repeat customers
The probability to sell to existing customers is 60-70%, according to Invesp. At the same time, the chance to sell to a new customer is just 5-20%.
That's why in order to grow your coupon business, you should focus on providing extremely good deal to your customers. So they would love to come back and purchase from you again.
You should have a strategy in place to market to your existing customers so they buy again and again from you.
You can follow-up with them via email regularly sharing the best coupon deals that might be of interest to them.
It's important to make this deals available for a limited time only. That way you will encourage people to take immediate action. Otherwise, they will lose the chance to take advantage of the offer.
At the same time, you can also create retargeting campaigns with Facebook ads targeting people who have already bought from you.
Provide a good user experience
The truth is that most coupon business sites are badly designed, unorganized and dreadful looking.
Users find them hard to navigate and use. As a result visitors usually can't find what they are looking for and this leads to low conversion rates.
So be sure you design your website with your user in mind.
This means that you need to have a big search bar on the top of your website so people can search and find products.

Also in your navigation menu you should have your main categories and subcategories.

Later down the page you can list your top selling products.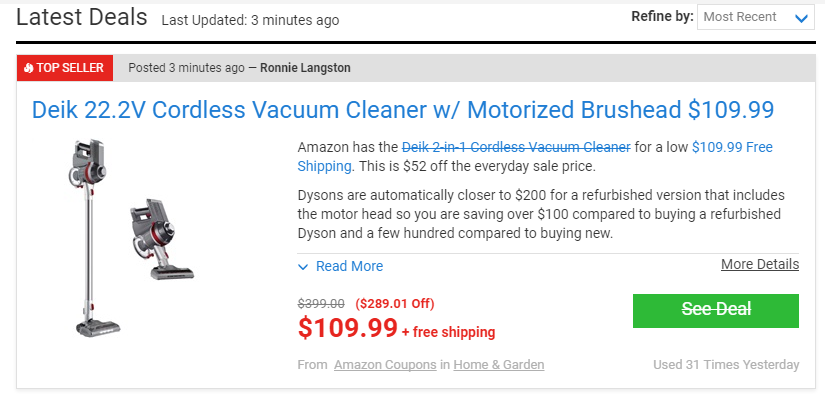 If they're already selling well, there is a good chance that other people will want to buy these deals as well.
In Conclusion:
To grow your coupon business in 2018 you should focus on niche opportunities.
You can't beat the big players in the industry but you can differentiate yourself by targeting a specific market segment.
So you must find great and promote great deals on your website to make money.
The other thing you need is traffic – so invest in things like SEO, Facebook ads and growing your email list.
These things will pay off as with time you will build a loyal customer base to which you can sell again and again.
Do you currently have a coupon business site? What are the main strategies that you're going to focus on to grow your business in 2018? Let us know in the comments below.
https://www.thebalance.com/the-jury-is-still-out-on-the-coupon-business-model-1141705
https://nichehacks.com/how-to-make-your-own-coupon-website/
https://nichehacks.com/1109-profitable-niche-markets/
https://smallbusiness.chron.com/coupon-companies-make-money-74662.html
https://fitsmallbusiness.com/coupon-advertising/
https://mashable.com/2013/01/21/online-coupons-business/#ghihAQHkTqqK
https://www.entrepreneur.com/article/84114
https://pocketsense.com/start-coupon-clipping-business-7947055.html
https://nichehacks.com/profitable-niches-for-affiliate-marketing/
https://moz.com/community/q/how-to-get-backlinks-to-a-coupon-code-website
https://www.invespcro.com/blog/customer-acquisition-retention/
https://www.forbes.com/sites/actiontrumpseverything/2014/01/22/want-to-increase-sales-target-your-existing-customers/#33eaac2951cb
https://blog.kissmetrics.com/what-converting-websites-do/
https://startingyourbiz.wordpress.com/2012/09/04/creating-a-niche-coupon-website/
Notes:
The coupon industry is worth $485 billion dollars with the biggest player being RetailMeNot.com worth $1.8 bn.
70% of online shoppers use coupons totaling 96.8 million people in 2013.
90% of coupon traffic is BUYING traffic as people tend to only search for coupons just before the make a purchase or when on the checkout and they see the 'discount' or 'coupon' code box.
RetailMeNot gets 63% of it's traffic from search engines through "discount code for X" type searches